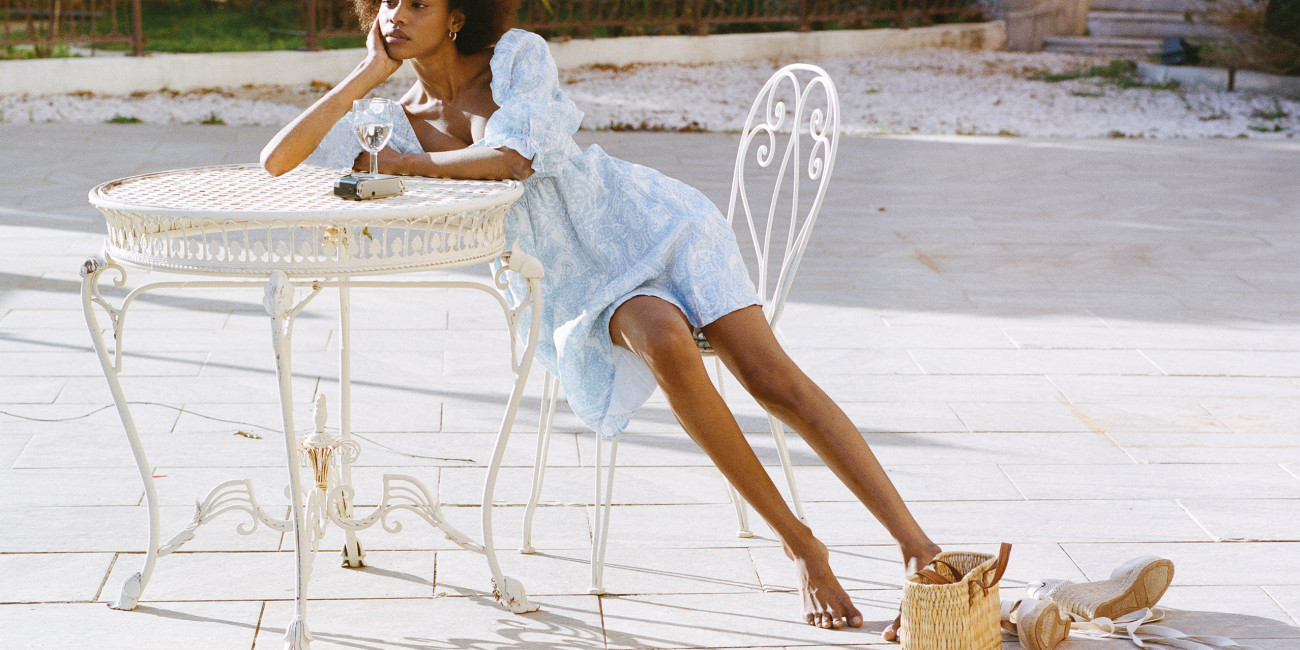 French Nostalgie
From the crooning voice of Nino Ferrer to the hanging wicker chair in Jacques Deray's 'La Piscine', the sunbeds of Brigitte Bardot's Saint Tropez or the bright colours splashed over David Hockney's Normandy paintings: references to France of the 1960s and 1970s are being revisited everywhere in fashion and design. Creators are seizing popular clichés from the New Wave movement – a rustic, almost utopian era of endless summers – and infusing their designs with this nostalgic French sweetness. Read on to discover the vintage postcard aesthetic that's being stamped with 'Made in France' appeal.
Faithfull The Brand - Available on Smallable
A nostalgic breeze is blowing through our grandmothers' wardrobes prompting designers to revisit the dress codes of French muses of the 1960s. Brigitte Bardot's iconic boat neck collar, gingham print and headscarf combination can be seen in looks from Mirae Paris, a small French brand that's bursting with summer inspiration. The "old-fashioned" look can also be seen in Staud's sixties mules and baguette bags, or Nodaleto's strappy sandals.

Mirae Spring-Summer 2020
Cult Gaia Dress worn by @annelauremais
Bulla Babies 65 Shoes by Nodaleto © @cameeleoneparis
The sound of chairs on gravel, the song of cicadas, the wind blowing in the fields, the scent of green meadows... These Proustian triggers are giving designers inspiration by plunging them into memories of summers past and holidays in the countryside.

The child prodigy of French fashion, Jacquemus is transforming ceramic door handles of country houses into bracelets, lavender pouches into handbags and apple baskets into beach bags. A bucolic nostalgia can also be seen in Faithfull the Brand's country-style collection.
Faithfull The Brand - Available on Smallable
Faithfull The Brand - Available on Smallable
The Door Handle Bracelet by Jacquemus
The Soleil Basket by Jacquemus
The Lavender Pouch by J The Soleil Basket by Jacquemus
If we had to name only two ambassadors of this French style, it would undoubtedly be Jeanne Damas and Anne-Laure Mais. With their brands Rouje and Musier Paris, they have been building a small empire around the image of the French woman for years. In their own ways they have both imagined the 21st century wardrobes of Brigitte Bardot, Catherine Deneuve, Françoise Hardy or Jane Birkin.

Their style plays with popular clichés: the Parisian bistro, bicycles, French baguettes and berets.

Jeanne Damas
This style is also intertwined with the 'Nouvelle Vague' aesthetic, inspired by the classic films of the 1960s. Case in point: Musier's scalloped Darc dress that has been seen all over Instagram was inspired by the iconic Guy Laroche dress that Mireille Darc wears in Le Grand Blond avec une chaussure noire (The Tall Blond Man with One Black Shoe).

The Tall Blond Man with One Black Shoe Film
Darc Dress by Musier Paris
Jane Birkin's iconic wicker basket naturally evokes summer, but today it is no longer limited just to this season. It has been revisited by every brand from Prada to Chloé, Jacquemus and Polene who are using it as a tote bag for all seasons.

This almost cliché accessory embodies the duality of the French woman: she can dress up with almost nothing while remaining wildly distinguished.

Jane Birkin
The Wicker Chiquito by Jacquemus
High-waisted bottoms, woven sandals, polka dots and gingham print are emerging from abandoned closets. La Nouvelle and Faithfull the Brand are two brands that are playing with the old-fashioned aesthetic of 1960s France taking inspiration from Brigitte Bardot in Jean-Luc Godard's film Mépris(Contempt).

La Nouvelle Swimsuit
Available on Smallable
Bonnieux Swimsuit by Faithfull The Brand
Available on Smallable
La Nouvelle Swimsuit
Available on Smallable
From yellow striped deckchairs, to perfectly aligned umbrellas, pools stretching as far as the eye can see, and rocky landscapes... The mythical hotels of the Côte d'Azur are playing on the clichés that made them popular in the 1960s. Here you can easily be transported to Françoise Sagan's Saint-Tropez, to the Croisette with Jane Birkin and Serge Gainsbourg or to the Goudes where Jacques Mayol used to dive. This tribute to the 'French Riviera' of days gone by is a celebration of its unique way of life and its beautiful beaches.

Hôtel Lou Pinet, Saint-Tropez
Lily of the Valley Hotel decorated by Philippe Starck © November Studio
Les Roches Rouges, Beaumier Hotels © Benoit Linero
Faithfull the Brand - Available on Smallable
Roches Rouges Hotel, Saint-Raphaël
The French "terrasses", or outdoor dining spaces are ramping up their retro charm in time for their long-awaited reopening. The winning French holiday combination of Ricard®, rosé, pétanque and pool wouldn't be the same without their comfortable, slightly dated outdoor furniture.

Vintage outdoor furniture sets like Gae Aulenti's Locus Solus model as seen in La Piscine are becoming increasingly popular and designers like Fermob, Petite Friture or HAY are responding with reinterpretations of these iconic pieces.

Jane Birkin in the film La Piscine
Tine K Home - Available on Smallable
Petite Friture Chair and Table - Available on Smallable
Far from abandoning clichés, the new generation of creators is pushing the stereotypical French aesthetic to its limits. The collaborative platform and roving gallery French Cliché is at the forefront. This label and publishing house is revisiting the icons and symbols that make up the French culture and identity.

On the menu: ceramic saucissons, plates with hand-painted illustrations of Françoise Hardy, or decorative ceramic croissants and macarons designed by Pia Chevalier...

Ceramic Françoise Hardy Plate by Tatiana Defraine for French Cliché
Ceramic Croissants by Pia Chevalier for French Cliché
Ceramic Macarons by Pia Chevalier for French Cliché
Ceramic Saucisson by Eleonore Joulin for French Cliché