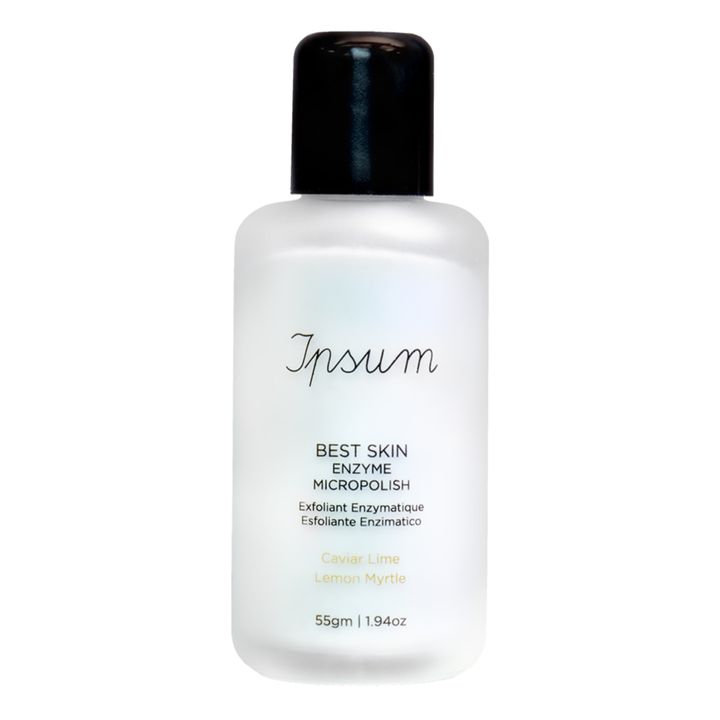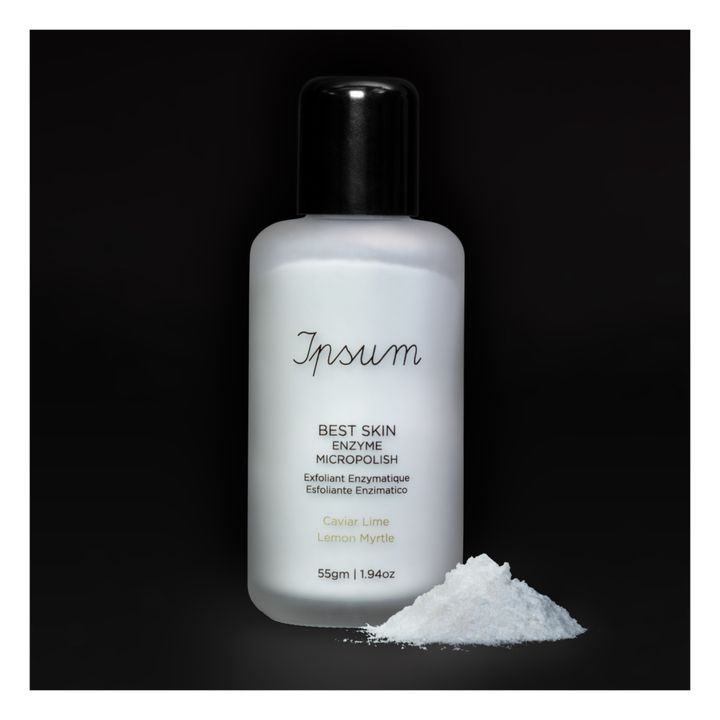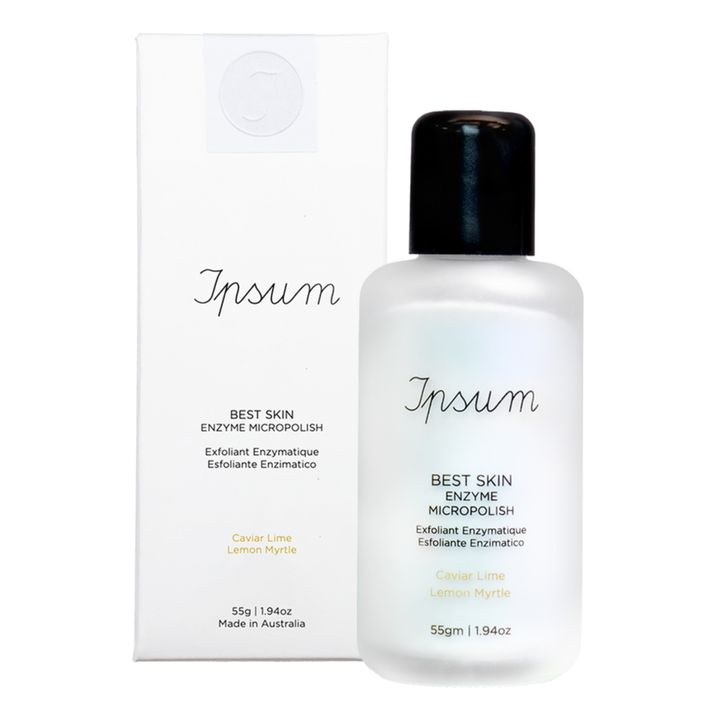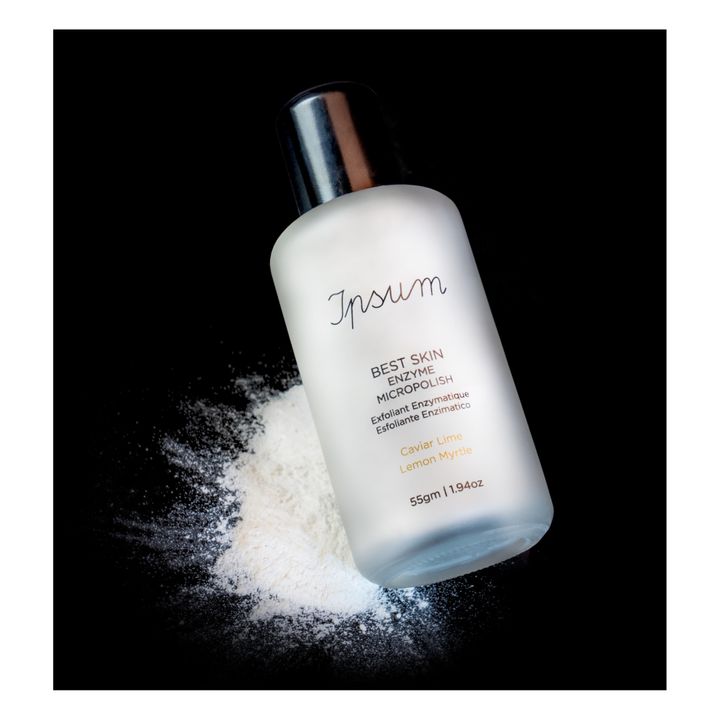 Ipsum Skin 
Best Skin Enzyme MicroPolish Exfoliant - 55g
Greenable Criteria
Artisan made
This item was handcrafted by artisans using traditional skills and techniques. Only a limited quantity has been made; it has not been mass-produced.
Description
A gentle, dual-active, polishing formulation featuring 9 pure and organic botanical extracts, to clarify, smooth, brighten, hydrate and refine skin texture and skin tone.
BENEFITS
The concentrated, vitamin and antioxidant-rich formulation is a soothing and smoothing blend of fine-milled rice powder and kaolin, with the gentle, natural AHA enzyme action of Caviar Lime and BHA deep-cleansing benefits of naturally-derived salicylic acid and astringent Lemon Myrtle.

Activated with water or mixed with Ipsum Best Skin Cleansing Oil Balm, the AHA and BHA enzymes work together to gently dissolve and exfoliate the build-up of dead skin cells and impurities on the skin surface that can inhibit healthy cell regeneration and leave skin looking dull and dehydrated. This gentle exfoliation and deep pore-cleansing action encourages cell renewal process, boosts skin's natural hydration level and promotes collagen production, while refining the skin surface for a more even skin texture and skin tone. Skin is refreshed and rejuvenated and looks brighter and healthier.

The unique formulation includes Hibiscus Flower, Calendula and Chamomile to help heal and soothe even the most sensitive, reactive skin plus Australian grown and harvested ingredients including Caviar Lime - a rich source of potent phyto-compounds including skin-brightening and collagen-boosting vitamin C and antioxidant powerhouse ferulic acid , Lemon Myrtle - renowned for its astringent properties and naturally antibacterial and anti-microbial Sandalwood.

The light, refreshing fragrance from Caviar Lime and Lemon Myrtle is as uplifting for the senses as it is for the skin.
COMPOSITION
Gentle AHA and BHA dual-action exfoliant and deep-cleansing formulation for smoother, brighter, refined skin texture and skin tone. Australian Caviar Lime offers a high concentration of phytocompounds – including vitamins C and E and ferulic acid - to help rejuvenate, hydrate and protect skin. Anti-inflammatory and antioxidant benefits for even the most sensitive, reactive skin.
Suitable for all skin types to boost the health and appearance of skin.

70% total organic content. 100% naturally derived

Packaged in recyclable frosted glass.
DIRECTIONS FOR USE
Suitable for sensitive skin, Suitable for reactive skin, Suitable for all skin types
Use once or twice a week, morning or evening, before cleansing.

Activate a teaspoon amount of Enzyme MicroPolish in your palm with water or mix with our Cleansing Oil Balm, then gently massage all over face.

Rinse away with warm water.
INGREDIENTS
Oryza Sativa (riz) en poudre*, amidon de tapioca*, kaolin, lauroylglutamate de sodium, Citrus Australasica (citron vert) en poudre, acide salicylique, Hamamelis Virginiana (hamamélis) en poudre*, Hibiscus Sabdariffa en poudre*, Chamomilla Recutita (Matricaria) en poudre*, Gomme de xanthane, Extrait de fleur de Calendula Officinalis*, Huile de Citrus Aurantium Dulcis (Orange)*, Huile de feuilles de Backhousia Citriodora (Myrte citronné)*, Huile de bois de Santalum Spicata (Bois de santal)*, Huile de Lavandula Angustifolia (Lavande)*, Citral^, Limonene^, Linalool^, Farnesol^.
*Certifié biologique ^Constituants des huiles essentielles
Cosmetic products can not be returned or exchanged