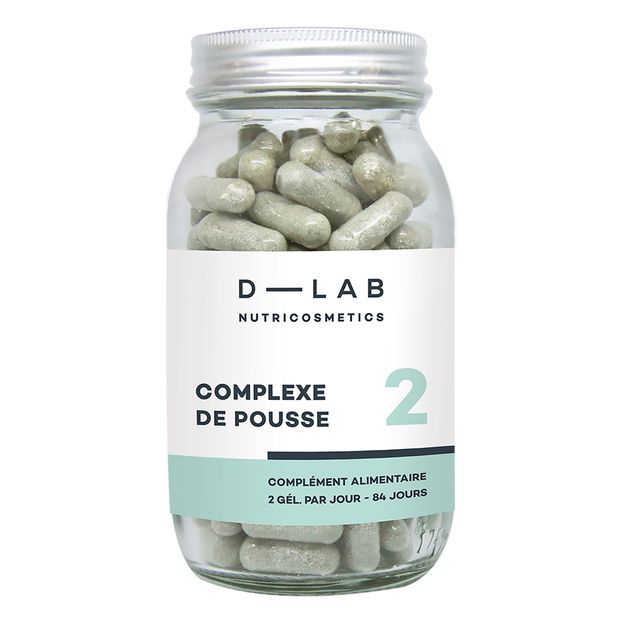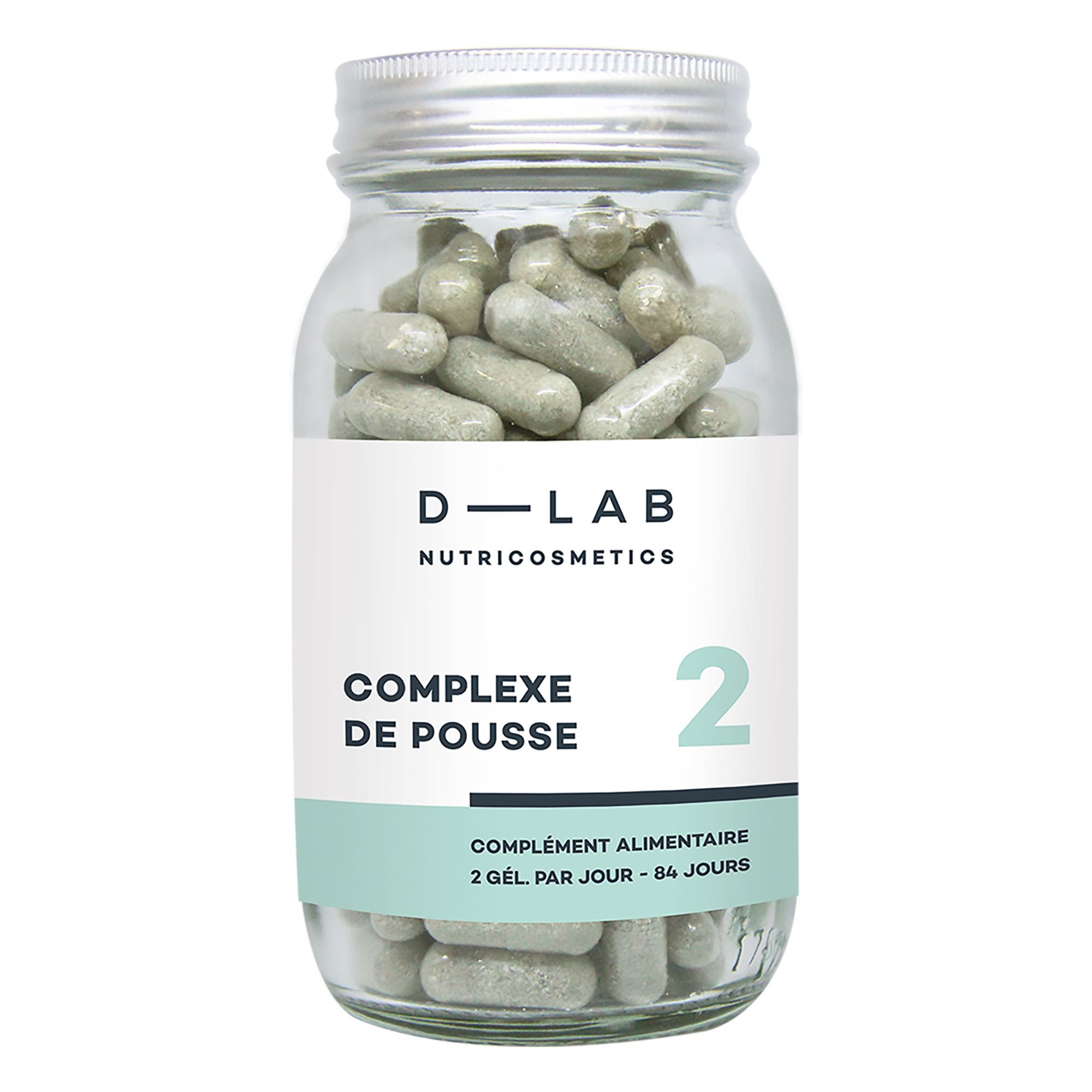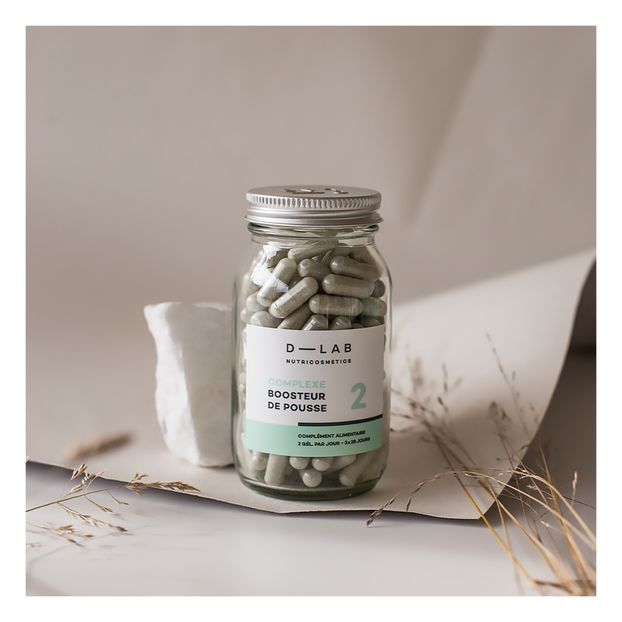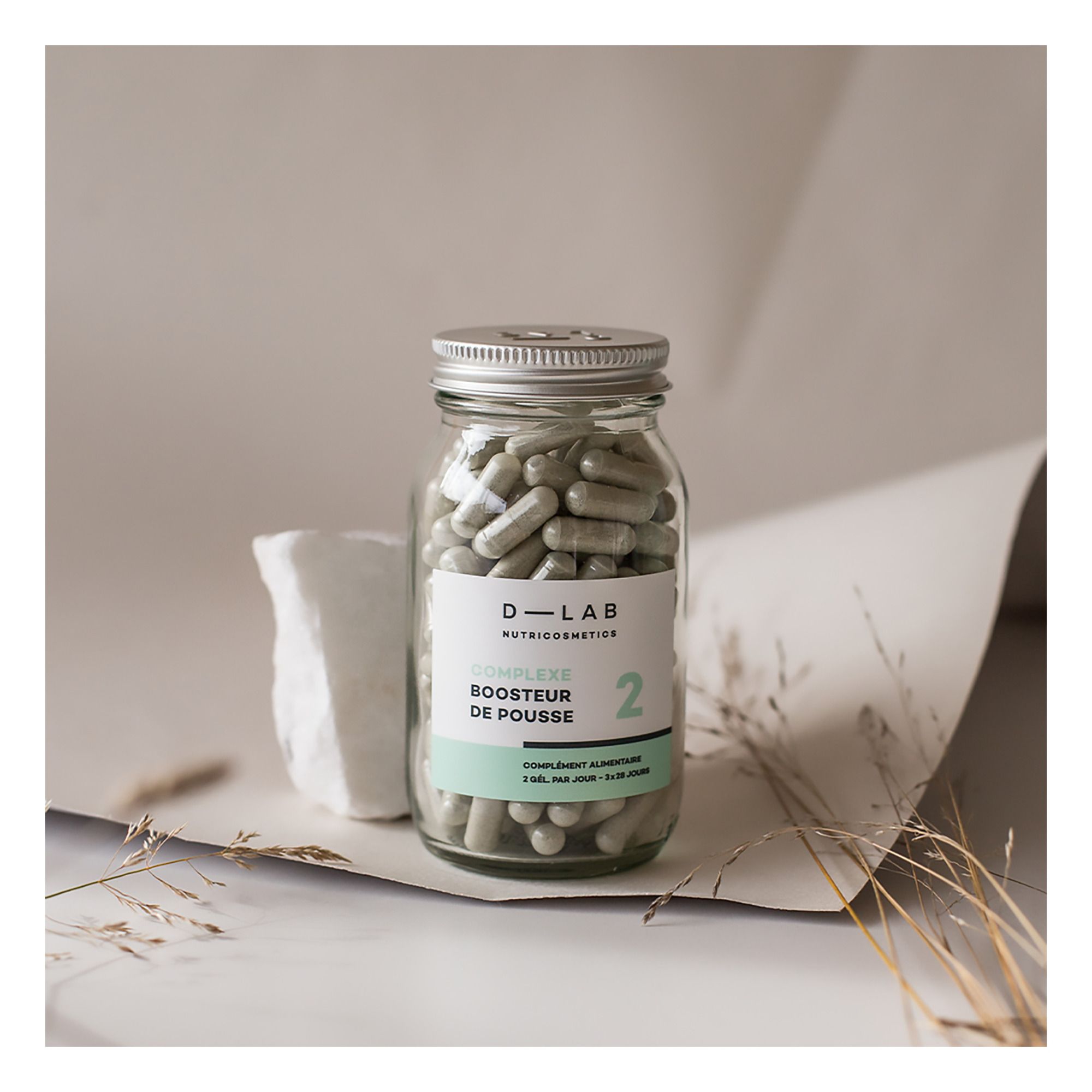 Hair Growth Complex - 3 month

Description
The Hair Growth Complex is the most comprehensive formula of its kind on the market: it nourishes and reinforces the capillary bulb while offering a high dose of all the active ingredients that make up keratin: amino acids, vitamins and minerals. Thanks to its innovative blend of bamboo extract and roquette, hair grows twice as fast*.

BENEFITS:

A BLEND OF ACTIVE INGREDIENTS PRESENT IN KERATIN: 100% vegan amino acids: L-methionine, L-arginine, L-lysine and L-cystine, the main constituents of keratin, are known to deeply nourish the hair. Spiruline: a remineralising freshwater micro-algae titrated to 60% protein helps in the creation of keratin. Its concentration of phycocyanine gives it antioxidant power and its iron content helps to improve blood micro-circulation for intense nutrition. Vichy thermal salts: an exclusive active ingredient formulated by D-LAB and sourced using a 100% natural extraction procedure, provides all the minerals that play an active role in the secretion of keratin. B-group vitamins: the combination of vitamins B5, B8 and B9 deeply nourish the capillary bulb.

STIMULATING ACTIVE INGREDIENT: Bamboo extract: an active ingredient titrated to 50% silica, known for its stimulatory effect on the hair bulb's activity and for its sebum-regulating effect on the scalp. Roquette extract Eruca Sativa: an extract four times more concentrated than its dry plant equivalent and recognised for its stimulatory and anti-radical action.

COMPOSITION:

The formula is composed of a selection of natural active ingredients that are naturally present in food. Plant-based capsules that pass through the stomach and are released in the intestines, where the active ingredients are absorbed. Cruelty and gluten free. 100% clean: natural ingredients that are naturally present in everyday foods without nanoparticles. Developed with NO GMO, NO irradiated components, NO preservatives, NO endocrine disruptors, NO Titanium dioxide, NO chemical solvents, NO artificial flavouring. Made in France, ISO 22000 certified. Low environmental impact: jars made from 27% recycled products and infinitely recyclable, cardboard packaging sourced eco-responsibly, use of plant-based inks and printed at eco-approved "Imprim'Vert" certified printers.

DIRECTIONS FOR USE:

Each jar contains 56 gastro-resistant plant-based capsules for 28 days. Take 2 capsules at any time of the day that suits you. Treatment recommended for 3 x 28 days for optimal effects. Can be taken continuously throughout the year. This formula is suitable for everyone including women who are pregnant or breastfeeding. The Hair Growth Complex can be taken on its own or in combination with Pure Keratin in the Capillary Nutrition Duo, the best-selling duo for complete hair nutrition.

INGREDIENTS:

Arugula (aerial parts) - Eruca sativa (400 mg) - Bamboo (young shoot) - Bambusa arundinacea (200 mg) - Vegetable capsule : Hydroxypropylmethylcellulose - L-methionine (100 mg) - L-cystine (100 mg) - L-lysine (60 mg) - L-arginine (60 mg) - Lithothamnion (seaweed) - Phymatolithon calcareum (30 mg) - Spirulina (seaweed) - Spirulina platensis (30 mg) - Chlorella (seaweed) - Chlorella vulgaris (30 mg) - Vichy thermal salts (30 mg) - Anticaking agent : Magnesium Stearate - Vitamin B5 (12 mg) 200% NRV - Vitamin B9 (200 µg) 100% NRV - Vitamin B8 (50 µg) 100% NRV.

Details : Cosmetics items may not be refunded or exchanged
Made in : France
Nutritional Supplements & Vitamins
Nutritional Supplements & Vitamins