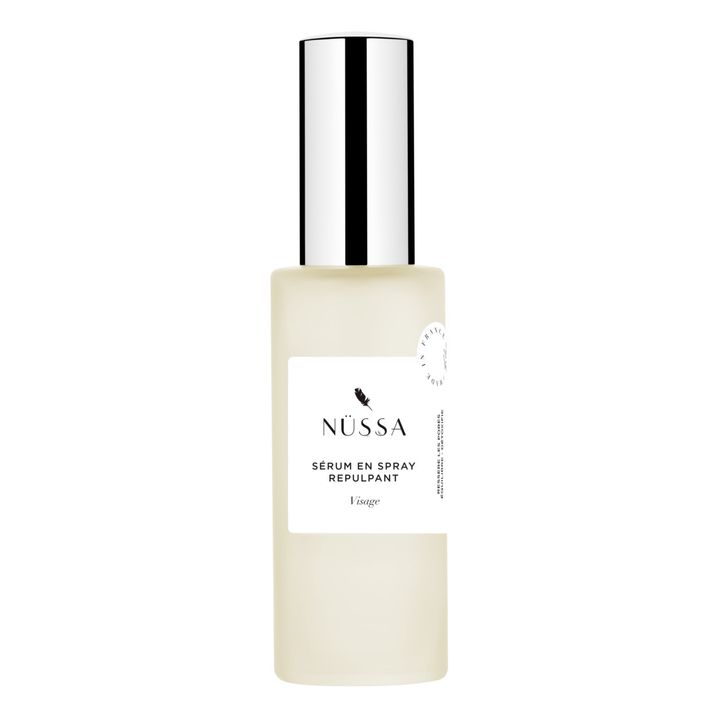 Nüssa 
Plumping Spray Serum – 30ml
Greenable Criteria
Artisan made
This item was handcrafted by artisans using traditional skills and techniques. Only a limited quantity has been made; it has not been mass-produced.
Description
This serum is composed of only a few ingredients but they are all highly concentrated making it a great product for treating a number of skin problems.


BENEFITS:

This serum accelerates the rate of cell regeneration, smoothing the surface of the skin. The combination of hyaluronic acid and organic everlasting flower extract stimulates hydration and the production of collagen. The skin becomes firmer, lines and wrinkles are smoothed and the complexion's radiance and luminosity are restored.

Renowned for its tonic and soothing properties, organic everlasting flower extract is especially recommended for delicate skin that is prone to redness. It is also an ideal active ingredient for mature and blemished skin. It is very well tolerated by the skin and is effective even in small doses and is known for its hydrating power and its ability to plump the top layers of the skin. It retains water on the surface of the skin, preventing dehydration by forming a protective non-occlusive layer (a type of thin aqueous film). It is the ultimate anti-aging ingredient for fighting against lines and wrinkles. This serum also includes aloe vera whose properties are ultra-hydrating and restorative, and which is rich in vitamins and minerals essential for cell metabolism.

COMPOSITION:

Organic Corsican everlasting flower extract, hyaluronic acid, organic aloe vera juice, 99.76% of total ingredients are natural, 94.4% of ingredients are sourced from organic farming.

DIRECTIONS FOR USE:

Suitable for all skin types

In the morning and/or evening, after cleansing your skin, spritz your whole face and neck, avoiding the eye area, then tap with a dry cloth. The serum can be used before a face oil, but never on its own. External use only, Do not use if allergic to any of the ingredients.

INGREDIENTS:

Aqua, helichrysum italicum flower water*, heptyl glucoside, aroma, aloe barbadensis leaf juice powder*, sodium hyaluronate, sodium benzoate, potassium sorbate. * Ingredients sourced from organic farming.
Details : Cosmetics items may not be refunded or exchanged
Made in : France