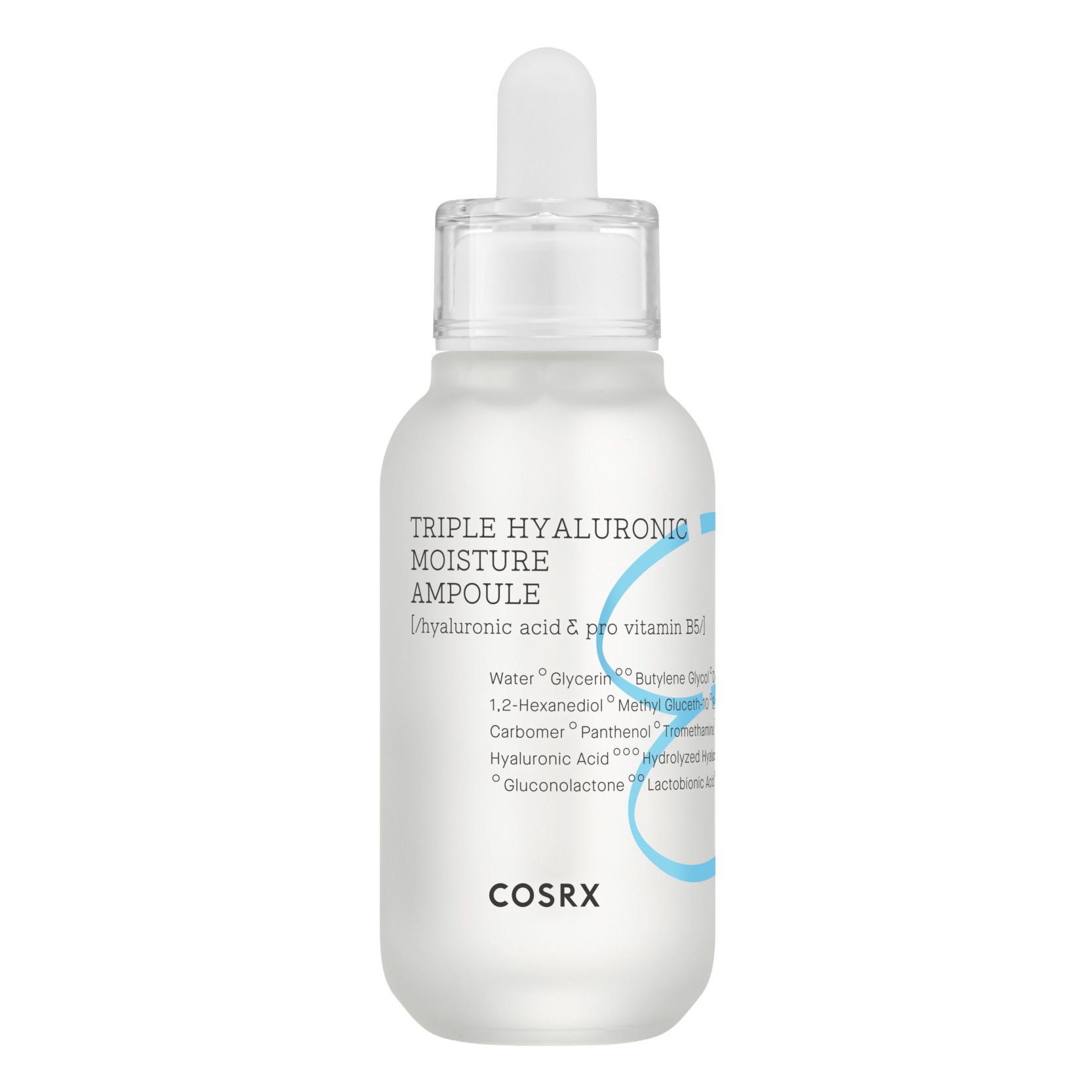 Cosrx 
Triple Hyaluronic Moisture Serum - 40 ml
Greenable Criteria
Certified vegan
The vegan label guarantees that no animal testing was conducted at any stage on this item. Further, this product contains no ingredients derived from animals, animal by-products and animal-derived GMOs.
Description
This serum with a new, non-greasy texture, leaves your skin plumped up and luminous, and will help give it the "Glass Skin" look. It is ultra-moisturizing and deeply nourishes dry and dehydrated skin.

BENEFITS
Its formula contains panthenol or provitamin B5, the flagship ingredient of the Hydrium range, which is moisturizing, regenerating and anti-inflammatory. It is the ideal ingredient for sensitive, stressed and damaged skin that needs to calm, protect and repair its barrier function.

Its formula is also composed of 3 types of hyaluronic acid: low molecular weight hyaluronic acid that will penetrate the skin to plump it up and improve its elasticity, intermediate molecular weight hyaluronic acid and high molecular weight hyaluronic acid to seal in moisture throughout the day.

Finally, lactobionic acid is a moisturizing and antioxidant active ingredient that protects against free radicals and has a gently exfoliating effect for sensitive skin.
COMPOSITION
Panthenol or provitamin B5, hyaluronic acid, lactobionic acid.
Vegan
DIRECTIONS FOR USE
Suitable for dry skin, Especially suited to dehydrated skin
After the toner and essence, apply 3 to 4 drops of serum to your clean skin and massage gently until fully absorbed. Don't forget your neck.
INGREDIENTS
Aqua/Water, Glycerin, Butylene Glycol, Dipropylene Glycol, 1,2-Hexanediol, Methyl Gluceth-10, Sodium Hyaluronate, Carbomer, Tromethamine, Panthenol, Ethylhexylglycerin, Hyaluronic Acid, Hydrolyzed Hyaluronic Acid, Lactobionic Acid, Gluconolactone.
Cosmetic products can not be returned or exchanged